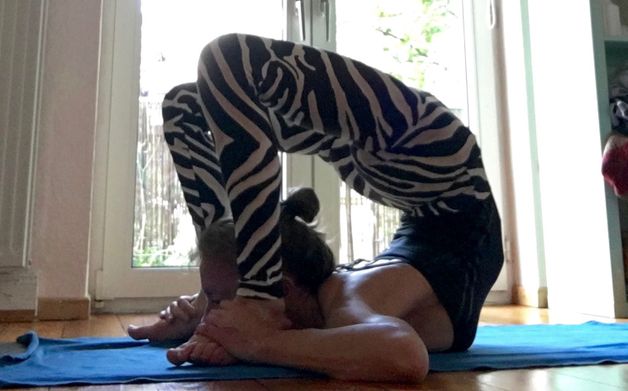 The first six years of my ashtanga yoga practice have been my most formative. It was shortly after I joined a local yoga shala that I met my first true ashtanga yoga teachers who were holding a workshop there. They are based on a Greek island, which meant I had to travel to study with them. Their shala is small, dark, very hot and very crowded. The floor is concrete and the ceiling low. No props and blocks tolerated, no wall for handstands allowed. You practiced handstands with the teacher and when it was deemed fit, had to do it on your own – no wall. You only moved along in the series when an asana was mastered comfortably, no variations and excuses. I was totally hooked. Every year, for roughly 6 years, I travelled to Greece to sweat and suffer in that shala. In addition, I followed my teachers on their workshops throughout Europe. I soaked it all up.
For the rest of the year, I practiced alone at home. Just as I learned it from my teachers. No probs, no wall and no messing around with asanas beyond to what I was given. I never questioned this approach. For years I got up at 3 am before work and went on my mat to face my demons. At the beginning, I felt very rigid and vulnerable and my mind was on party overdrive. At times there was so much stiffness and pain that I cried in savasana. I swore I would quit, only to get up again the very next morning for more of the same.
I don't know why I carried on but eventually change came. Since I was on my own with no-one to turn to, I had no choice but to look within. Slowly and reluctantly my busy mind silenced. My focus turned deeply into the pain and stiffness. It was then that I found complete stillness. It was then that I found relief. I thought nothing and I felt nothing. I was floating in stillness and surrendered. My muscles relaxed – I was home. I faced my weaknesses relentlessly and then let them go. It was a slow but steady process. Whether it is complete I don't know but part of me is always resting in that sweet stillness – that is my home. Asanas come much easier now but matter much less. I have grown unattached to the world.
In the years that followed I travelled beyond Greece to India including Mysore as is expected from a dedicated Ashtangi. I participated in major workshops and obtained a teaching certificate. I met many lovely people and generally had a blast. The 'Yoga Community' is fun and supportive just like any other interest group. I used to be a passionate sailor and the community was the same and that is fine. It is good for people who share the same interest to come together and support one another.
Yet unlike sailing yoga is not a social affair. It is a journey deep within that if you want to succeed you have to eventually undertake alone. It is where fear ends and love begins. To practice with likeminded people is a joy but can quickly turn into a comfort zone. To deepen the yoga practice and go beyond asana it is important to have that 'alone time' as much as possible. This is tough for sure. It is tapas. Yoga in practice is tapas, self-study and surrender. So it says in the Yoga Sutras of Patanjali. The Ashtanga Yoga System is a wonderful tool that when learned correctly and then practiced mindfully will take you all the way to the center of your soul. But you can only go there alone. It is your soul.   
Yoga is an internal practice. The rest is just a circus. - Pattabhi Jois