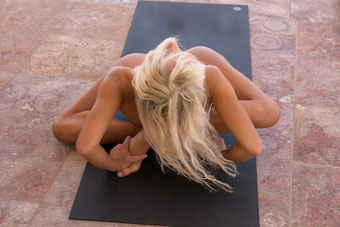 I have been posting pictures on Instagram for over a year now. At first it was just straight forward yoga postures but with time, my selfie button and I got more and more creative, as you do. I'm having a total blast now mixing yoga postures with some contortion poses and at times even some nudies. All in good fun, no harm done. Yet, to my surprise the more fun I'm having, the more negativity is coming my way.  Basically, it's mostly from the yoga community. Seriously people? They are just harmless pictures. To get enlightened you need to lighten up a little.
I've been largely accused of polluting yoga and yoga porn. Lol, I wasn't even aware that there is such a thing. Frankly, it amuses me that 'Yogis' feel the need to point a finger and accuse me of the above just by looking at a photo. A picture can only do what your mind allows. So what on earth are you thinking? I'm neither claiming to teach yoga nor am I selling anything with my photos. It's Instagram and I'm just posting for fun. 
I have learned that yoga is about mindcontrol, acceptance and surrender. The beauty of practicing yoga is that the deeper you go, the less you need to judge and compare. You rise above petty things and no longer need to prove anything. Acceptance comes with a happy heart as does love and compassion. Lately, I have been finding myself drifting away from the yoga community. Their lists, rules and regulations are just such hard work. What is life without simplicity and a little sinful pleasure once in a while. I don't care for perfection. I have totally accepted and embraced my own and everyone elses flaws and imma not gonna do anything about them. It's me, it's us and ultimately there is nowhere to reach. 
Regardless of what is being said or done to me, I'm going to post my shit as long as I want to. I have lots of love coming my way too which is totally awsome. So if you don't like my pictures or posts, you may as well just move on because as far as I'm concerned your resistance is just like your judgment: utterly pointless.